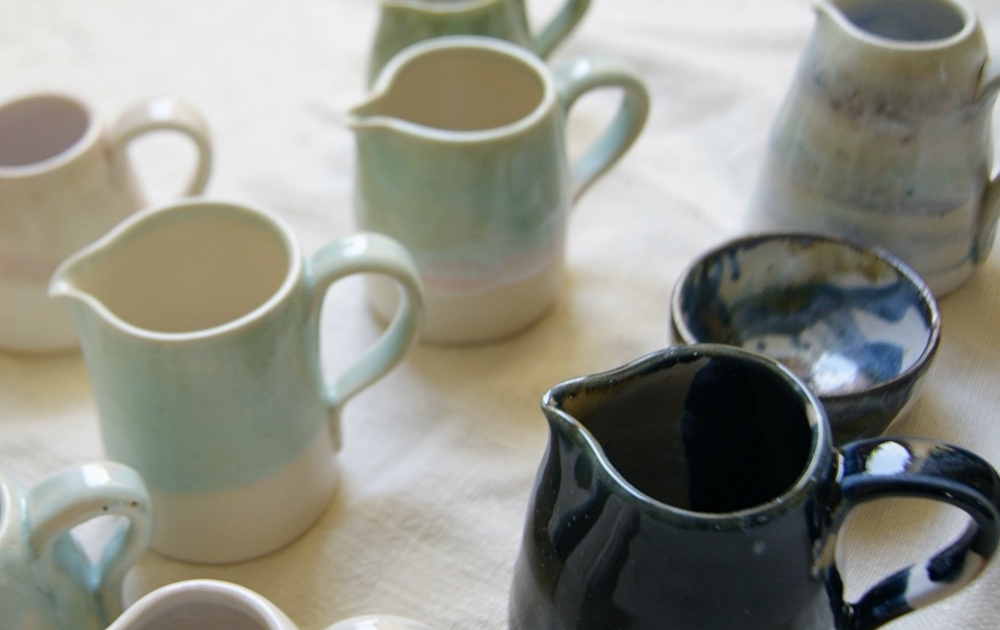 We first met Lynn Fox at a fair, her work stood out straight away and we have been selling a collection of her ceramics since this time last year. Each piece is unique and has its own beauty. We asked Lynn for a short video to show how she throws her pot, and asks her a little bit more about the process.
Normally Lynn creates her work do in batches, working through each process on a few pieces at a time. The process starts with preparing the clay to the right consistency. She then throws the pot (see below) before part drying it. She turns the shape of the base,  makes the handle and attaches it, and does any other texture and shaping. When she is happy with the shape of the jug, mug or vase she is making she dries it. Next she packs the kiln and fires it to 1000˚C.
After the jug has been fired the first time glazes need to be added. First Lynn makes her glazes and then she applies them by dipping pouring, spraying and brushing. Finally she cleans the base, dries them again, packs the kiln and fire to 1260˚C … and out comes a beautiful jug, vase, mug, bowl.
And at each stage tools, equipment need washing so that they are clear to use– there is a lot of time spent washing!
Each item takes between 40 minutes and an hour to make.
Scroll down and press play to see the video if it doesn't play straight away.
https://homeofjuniper.co.uk/wp-content/uploads/2016/09/junpier-logo-clear.png
0
0
homeofjuniper
https://homeofjuniper.co.uk/wp-content/uploads/2016/09/junpier-logo-clear.png
homeofjuniper
2018-10-01 05:09:43
2021-05-04 11:28:31
Makers Stories | Lynn Fox