Each May we concentrate on the things that make us (and you) happy. One of these things is a good nights sleep. Everyone feels better when they wake up after sleeping well, and one of the things that helps you sleep well is a comfortable place to lay your head. Sleeping well is even easier when you know you are laying on bedlinen which has been fairly made from natural, sustainable cotton. Ara Living are a relatively new brand with beautiful, modern designs who have wonderful ethics surrounding the production of these wonderful pieces. We were lucky enough to catch up with one half of Ara Living's leadership team, Himanshi. 
When did Ara Living start and what was the inspiration behind the brand?
The idea came to life soon after the birth of our 2nd child. With the expanded family, we had moved into our new home and needed new bed linen. We were looking for luxury, high-quality bedding that didn't cost a fortune or weigh on our conscience in terms of how it was produced. To add to it, Aryan, our 2nd son (we have 2 boys Arjun and Aryan – that's where Ara comes from!) was born with highly sensitive, allergy-prone skin, driving Dhruv (my husband) and me towards a more chemical-free/ organic life. As we couldn't find anything that fit the bill, we thought we'd go ahead and create it! After 2.5 years of obsessing over every little detail, Ara Living was launched in December 2017. So, yes we are very new!
All Ara Living bedding is fair trade and traceable, why is this important to you?
Having grown up in India, I was all too aware of the abhorrent practices like child labour and slavery that are rampant in the world of textiles; I knew we had to make a difference. Whilst the fashion industry may have started waking up, bed linens are a major consumer of textiles but there hasn't been much focus on making this part of the industry free of the prevailing evils. So we decided that our sheets would be no ordinary sheets – they would change lives. And that we would ensure that each and every step of our supply chain would be more than just ethical – it would treat all our farmers, mill workers, dyers, weavers, sewers with the respect that you and I, here in the developed world expect.
So we partnered with Fairtrade, an international organisation that ensures that the people who are at a disadvantage like small-scale farmers and mill workers, those generally marginalised by the mainstream market are the priority; that they receive fair prices, living wages, decent working conditions, and community benefits, just as we would.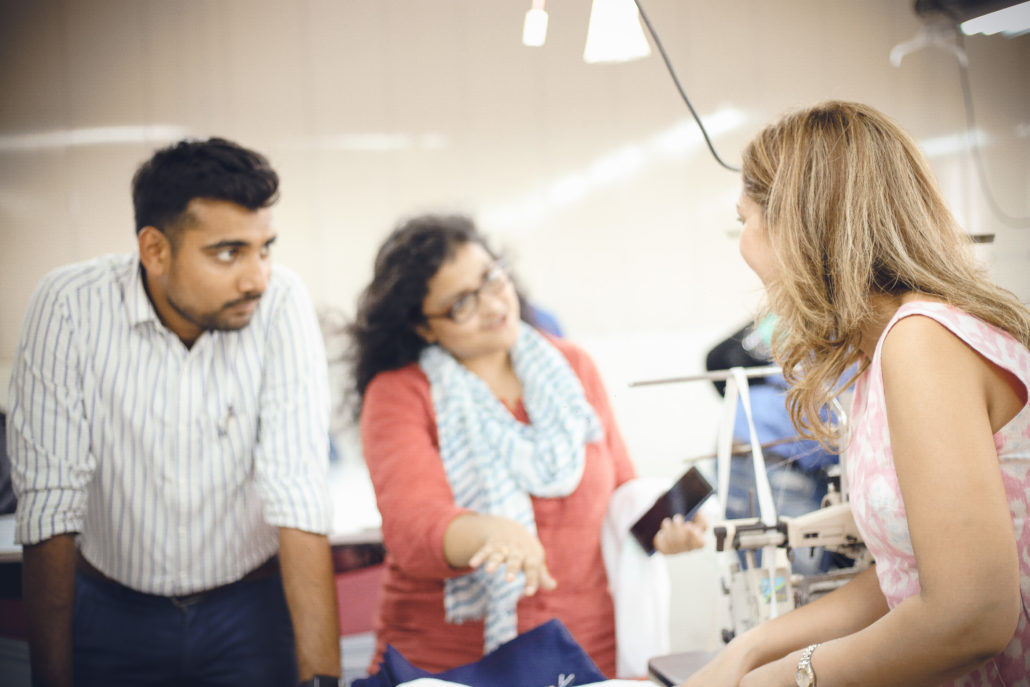 How closely do you work with the manufacturers?
It's important to us that we know that each and every person involved in the production of Ara Living bed linen is treated with respect. Our fully traceable and transparent supply chain means we know the farms that our cotton is grown at, the ginning and spinning mills where the cotton fibre is separated from the seed and then becomes a yarn. Our hydroelectric-powered dyeing unit which uses 100% organic chemical-free dyes in the most ethical and sustainable manner; our weaving and knitting mills where all mill workers receive pension contributions, bonuses, healthcare, scholarships for their children, safe transport to and from home, company meals and many other benefits that fill us with pride. During our last visit just a few months ago to one of the mills, we sat with the staff during their lunch hour and, discussed a Bollywood film over a delicious meal.
We love natural materials, why is it important to you that you use natural materials, such as Organic Cotton in your homeware?
Put simply, because it has a major positive impact on our health and the health of our planet.
As organic cotton is free from poisonous pesticides, cancer-causing agents and toxic chemicals, it has significant health benefits over conventional (non-organic) cotton and can help those suffering from allergies and sensitive skin. Also, organic cotton is softer and is nearly three times longer lasting. In fact, unlike conventional cotton, it actually gets softer with each wash!
More importantly, organic cotton has huge environmental benefits over conventional cotton, which uses as much as 25% of the world's insecticides and more than 10% of the world's pesticides – that's more than any other crop in the world! Not only do these poisonous chemicals severely affect
the health of the farmers and mill workers working in close proximity, leading to thousands of deaths each year, the toxins seep into the eco-system and severely harm our waterways (lakes and rivers), wildlife, farm animals and farm produce. Also, mono-culture, Genetically Modified (GM) seeds, repeated use of chemical fertilizers, pesticides and insecticides makes the soil infertile, unfit for any cultivation.
Each set is named after a place in India, is this something you planned from the beginning?
I was born and brought up in India and I have beautiful memories that take me back to each of these places. It was these memories that I drew inspiration from for each of the designs – be it the beautiful patterns created by countless waves crashing against the Malabar coast or the forts and palaces in the regal city of Jaipur. After all, it is such a beautiful and diverse country! Hopefully it will help to highlight these amazing places, even in a small way!
Do you have a personal favourite item from your beautiful range?
It depends on the mood I'm in! I'm all for the simplicity of the minimalist Rann with a flanged border; I normally pair this with the ultra-cosy Melange throw with its modern take on the traditional cable-knit design, for a relaxed, lived-in look. I also love the elegance and striking charm of the Jaipur range with its hand-appliqued border – the sharp, crisp lines instantly transform the room into one that epitomises sophistication.
What is your top tip for a good nights sleep?
For me, it's all about calming your senses and helping your mind and body to ease off naturally. The softness of the sheets, their fit around the mattress and the way they can regulate your body temperature makes a big difference to the quality of sleep. In fact, as we draw closer to warmer nights, this is where organic cotton sheets – particularly in a Sateen weave (which is what all our bed linen is made of) – have a real edge, as they are more breathable and have natural properties to regulate temperature better than conventional cotton.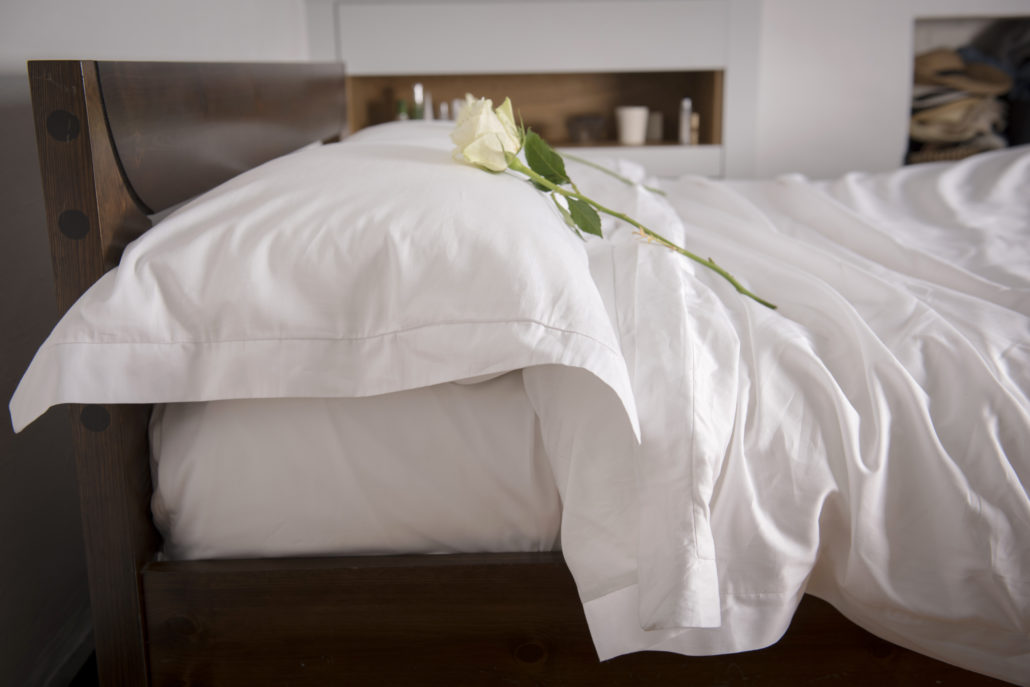 What does the future hold for Ara Living? Do you have anything coming up you can tell us about?
As we're so new to the homeware market, we're really focusing on this first collection at the moment, and getting the word out there about ethical and sustainable luxury products at fair prices. But of course, we hope to continue to expand and bring more products to our customers in the next few years!
Ethical and sustainable… two of our favourite words. These beautiful cotton sheets and sets are truly luxurious to wake up in. A wonderful addition to your home and with a gorgeous story and lovely people behind them. We are looking forward to seeing Ara Living grow and expand.
How do you ensure a good night's sleep? And what is it you look for in our bedding?
To find out more about Ara Living, by going to their website HERE.
Or their Instagram HERE.
https://homeofjuniper.co.uk/wp-content/uploads/2016/09/junpier-logo-clear.png
0
0
homeofjuniper
https://homeofjuniper.co.uk/wp-content/uploads/2016/09/junpier-logo-clear.png
homeofjuniper
2018-05-06 07:00:07
2018-04-22 20:05:19
In Conversation with Ara Living - Organic Bed Linen