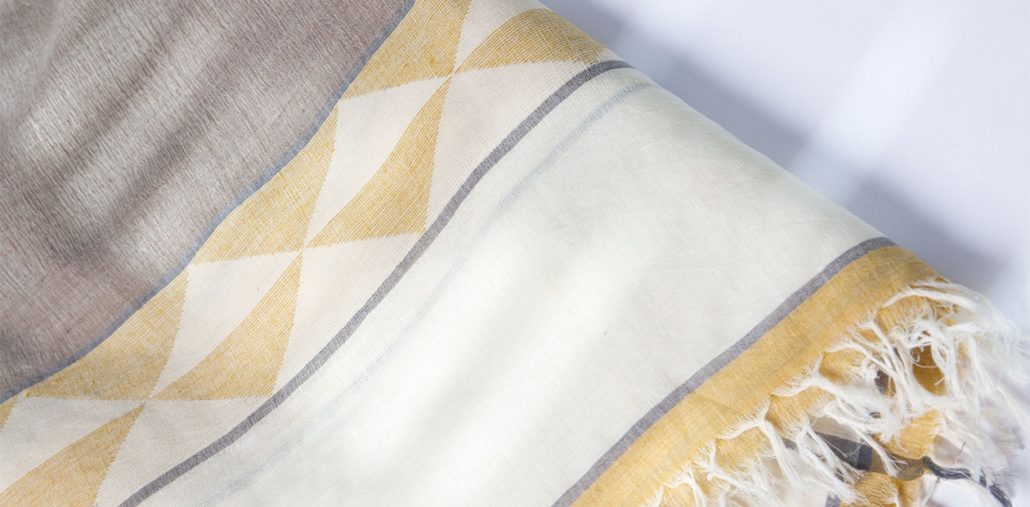 I first met Anna in September last year, speaking to her about her beautiful cushions and scarves you can tell immediately that they are the produce of a lot of love and knowledge. She cares not only what they look like, but also how they feel and who made them. As our celebration of International Woman's Day (8th March) we have taken a bit of time out of Anna's busy schedule to talk to her about her business and people that work with her.
Annaloom producers are carefully selected based on 3 main areas which align with fair trade principals.
The organic and/or natural raw materials: Annaloom is particularly interested in unusual fibres that are locally cultivated by the artisans, be it eri silk, handspun cotton, bark cloth. This not only supports the sustainable production of natural fibres, it also encourages traditional rural livelihoods in Asia, where the Annaloom products are made.
Traditional techniques: Many of the pieces in the Annaloom collection are based on traditional handweaving techniques, of specific skills that are endangered due to the competition with industrially produced fabrics that often imitate their techniques.
Social Impact: There are some fabulous organisations in Asia that use craft as a means to positively impact the lives of disadvantaged people. Vocational training and employment in weaving has changed the lives of many. A well designed and produced product should sell because of the quality of the product. The story of the artisans is the winning ticket in a look good feel good product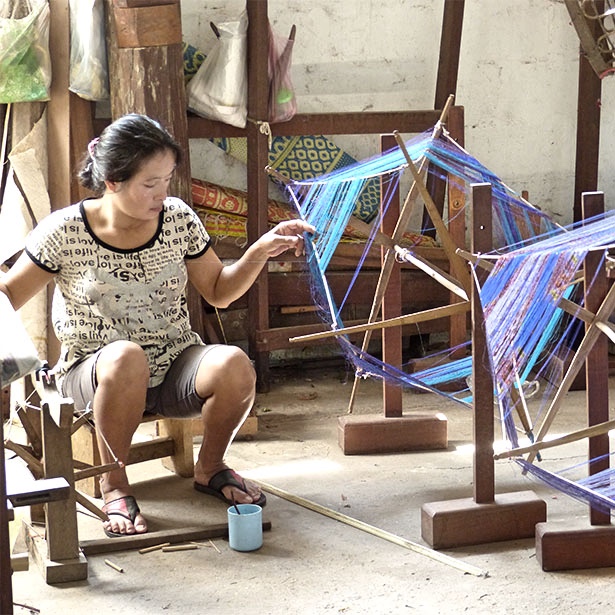 When did you start Annaloom Textiles?
Officially in 2014. I worked in the jacquard industry in India for 7 years, in a high end silk mill. I worked in Spain for luxury and high street interiors brands. I launched Annaloom in 2013/14 bringing together my wide experience in textiles and drawing on the many links to artisans that I built up over the years I spent in Asia.
Why is Ethical Trade so important to you?
Firstly from a weavers perspective, I felt a responsibility to work with traditional artisans to support their work in globalised times, where skills are disappearing fast.
I believe in treating people right! This includes everyone from producers, to retailers, to clients, to drivers, cooks, waiters….you name it, everyone deserves to be treated ethically and with respect.
I understand the power of traditional craft in the field of vocational training and rural employment of developing countries. As a textile consultant in India, Laos, Cambodia and Myanmar I come into direct contact with this field of textiles.
Some pieces in the Annaloom range are the result of design consultancy projects, where I have directly worked with the artisans. It is all the more rewarding when you are able to describe to buyers the environment the products are created in, the people and the techniques they use.
The talent of Anna-Louise and the wonderful woman who work with her amazes us! Beautiful design and wonderful skills, which they probably take for granted. These talents deserve empowerment and, dare we say it, a little 'girl power'. What-ever you do, and whatever gender you are realise your worth and talents today.
https://homeofjuniper.co.uk/wp-content/uploads/2016/09/junpier-logo-clear.png
0
0
homeofjuniper
https://homeofjuniper.co.uk/wp-content/uploads/2016/09/junpier-logo-clear.png
homeofjuniper
2017-03-08 09:08:47
2017-04-14 11:02:28
World Womans Day- We Talk to Anna-Louise, one of our talented female designers about her company and ethical sourcing.