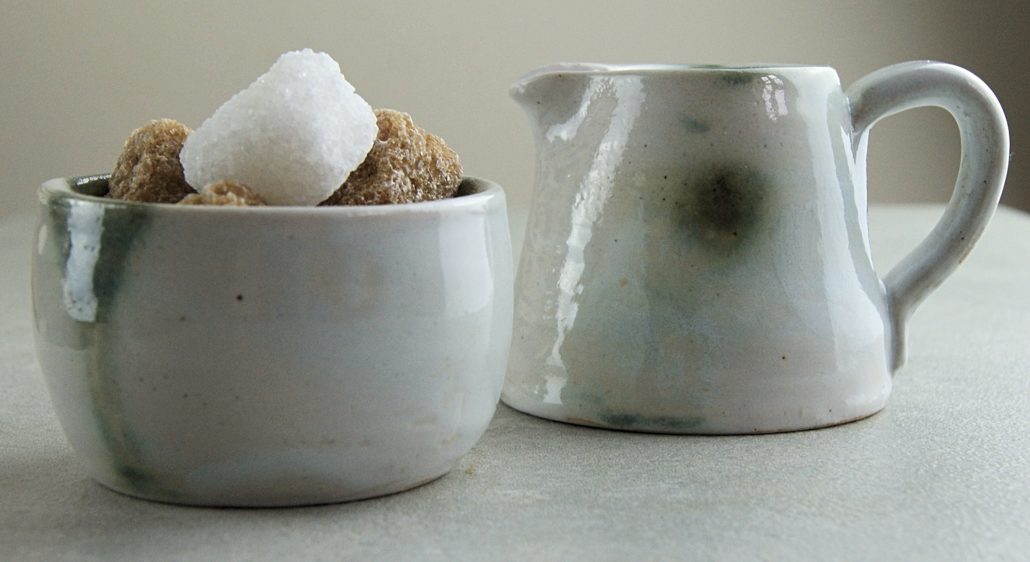 Ceramics are something that often crosses the divide between useful and beautiful. This is definitely true of Lynn's elegant pieces. All are hand thrown and hand painted in her home studio. These piece's are all microwave and dishwasher safe. They also look lovely on display, as shown by some of the images we have been sent by happy purchasers. The fact they are handmade means that each piece is unique and special. We spoke to Lynn about how she makes these gorgeous jugs, mugs, and bowls; and where she gets her inspiration from. Here is what she had to say:
Can you tell us how you started getting interested in making ceramics?
When my youngest daughter was 3 years old I decided to do a creative course at the local college one evening a week. I had enjoyed short course making ceramics a few years earlier and wanted to try making smoke fired coil pots. After a year of evening cases learning basic techniques my teacher suggested I join the A level class, this was followed by City and Guilds courses and setting up my studio at home.
What is your design process? Do you draw out designs, or start making and see what forms naturally?
I sketch shapes for pots and ideas for potential decoration based on things I see and developments of pots I have made, and design ideas. Working in 3D and with glazes is very different to sketching, however, so experimenting with making different shapes, new glazes and decoration are an essential part of the design process.
You say a lot of your work is influenced nature, is this something that is important to you?
I find I am repeatedly drawn back to expressing the abstract colours patterns and textures of the natural world. I find them timeless, calming and inspiring.
Is there anything else that influences you while you design and make a product?
I think a lot about what the product will be used for. Often a design will be prompted by a need, such as needing a deep ovenproof pie dish with a rim for the pastry, a pierced dish for air to circulate round fruit, and a frost proof birdbath deep enough for blackbirds to bathe.
Do you have a favourite piece? To make, and to use.
I love making and using large dishes. From a making point of view they offer a good sized 'canvas' and frame to decorate, and from a use point of view they are very versatile, good for cooking, serving, storing and displaying
How long does each piece take to make?
There are many stages to each piece involving a variety of techniques. Also a lot of time also needs to be spent on jobs like preparing clay and glazes and cleaning, stacking the kiln. Even the simplest pieces are likely to involve half an hour's making time and complex ones many hours.
Beautiful pieces, inspired by nature and useful… what more could you want? Each piece is individual and handmade, which is part of what makes these so special. The other thing that makes them special is how nature flows through them in colour and form, yet they are simple enough to go in modern environments. We at Home of Juniper fell in love with them when we saw them at a fair. The mini jug and bowl sets are a personal favourite, useful when serving hot drinks, they also look stunning on display.
---
https://homeofjuniper.co.uk/wp-content/uploads/2016/09/junpier-logo-clear.png
0
0
homeofjuniper
https://homeofjuniper.co.uk/wp-content/uploads/2016/09/junpier-logo-clear.png
homeofjuniper
2017-06-23 08:16:08
2018-07-20 19:45:35
Nature Inspiration - Ceramics