How to minimise Christmas waste – reduce reuse recycled
Christmas can be a wasteful time of year and a time of excess. But it doesn't have to be, and you can still have a lovely Christmas while being sustainable. Here are a few ideas on how to have a more sustainable Christmas. 
Gift Wrap
Only buy recyclable wrapping materials and recycle where possible. There is a great trend for fabric wraps, which can me made from reused material and can then be reused again by you or the recipient. And reuse as much as possible. If you use or receive gifts in paper you can do the scrunch test. If it stays scrunched it can be recycled, if not it needs to be reused or put in the non-recycle bin.
We wrap all gifts bought from us in ethically sourced tissue paper. Our tissue is made using recycled materials. During manufacture 35% of electricity used is from renewable sources, using hydroelectric power. (With ethical gift boxes available for a small fee).
Food Glorious Food
Buying in season and sustainably sourced food are the first ways to be a little more food ethical this festive season. And buying less, so you have less left over. If reducing doesn't work and you still have food left over (or you are given food items you don't want) there are a few ways you can make sure nothing is wasted. But make sure you keep an eye on 'used by' dates. Food banks are always in need of sealed in date food. You can search the internet for your nearest food bank and what food they accept. 
Another great way to minimise food waste is to use it up with yummy recipes. Turkey sandwiches, stews, Macaroni cheese or cauliflower cheese (for left over cheese and breadcrumbs – sprinkle breadcrumbs on macaroni cheese and bake).
And finally some food  can be given to wildlife, such as apple. But if you are unsure what can be given to wildlife please research. Either check online or ask your local wildlife charity and they should be able to advise.
Christmas Trees
Greenery is lovely at this time of year and bringing it inside goes back to Pagan times. But it can also be wasteful with trees.
If you choose a fake tree, make sure it is the best quality you can get to save needing a new one each year. And if you choose a real one try and choose from a sustainable grown area. Somewhere that grows more than they cut-down.
Alternatively, y0u can grow your own and bring it in each year. (Just make sure it doesn't get too hot). And it doesn't have to be a fir tree you bring in. The image below is actually a Juniper bush which is Christmas Tree Shaped.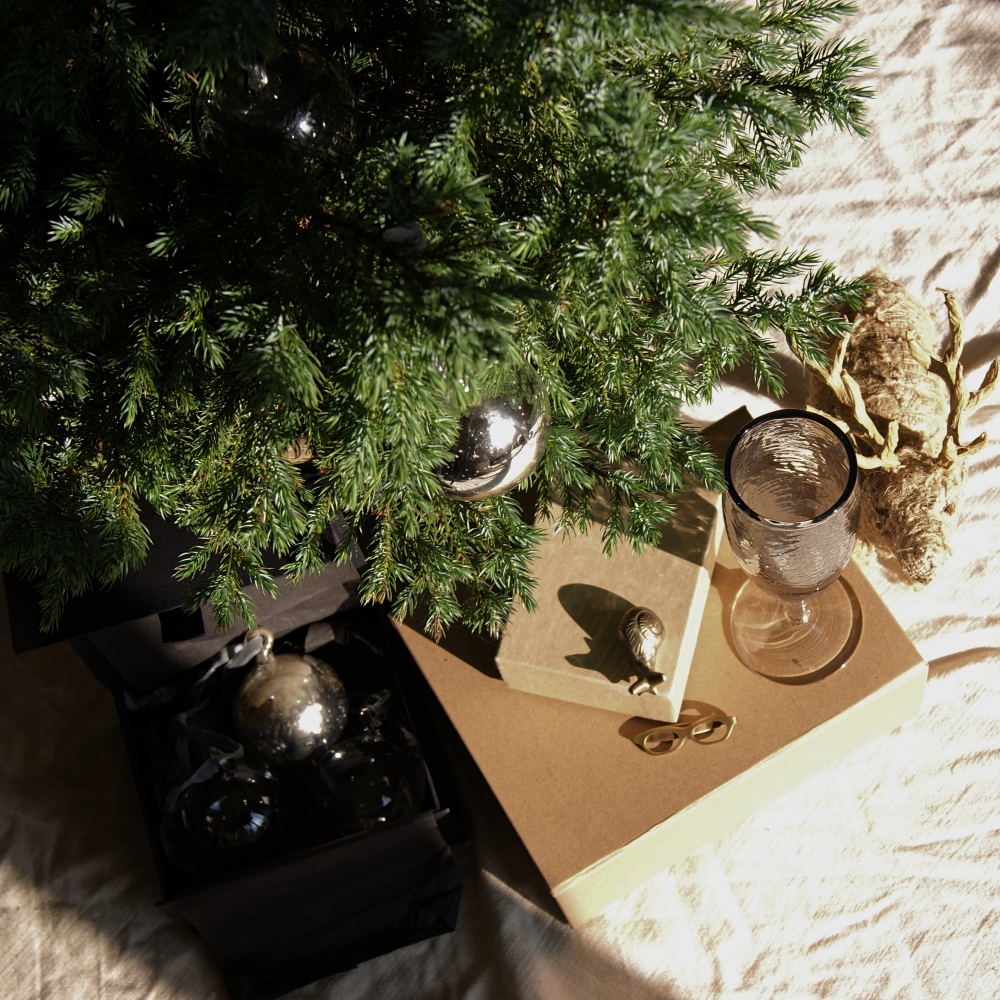 How to get rid of your real tree
There are now some great ways to get rid of your Christmas Tree ethically. Support charities like Just Helping who will take away your tree for a charity donation. The money raised goes to help charities and hospices across the UK. 
Some garden centres take Christmas trees, chip them and use them for the next season (do check with your garden centre before turing up with the tree )
Some conservation groups also use old Christmas trees, for example to protect sand-dunes. You can internet search or ask your local council if these are options. Alternatively most councils will now take trees as Green bin waste, so you can leave your tree to be picked up at the first green bin day…. please check with your local council to find out if this is true for your area. 
Do you have any other suggestions for minimising Christmas waste? If you do let us know on our social media. 
Instagram – @la.juniper       Twitter – @homeofjuniper      Pinterest – @lajuniper1      Facebook – @lajuniper
#fillyourhomewithflowers   #homeofjuniper
https://homeofjuniper.co.uk/wp-content/uploads/2016/09/junpier-logo-clear.png
0
0
homeofjuniper
https://homeofjuniper.co.uk/wp-content/uploads/2016/09/junpier-logo-clear.png
homeofjuniper
2019-12-01 09:23:30
2019-11-06 14:43:28
How to minimise Christmas waste - reduce reuse recycled