Free-d | Jewellery Matters
You know when you find a brand that you are instantly drawn to. Free-d was one of these brands for me. It is not just the stunning jewellery. And the jewellery IS stunning. It is also the story behind it. It is the people behind it. 
Free-d as a brand, goes above and beyond. They work with girls and women from vulnerable or underprivileged backgrounds, recruited from women's shelters or NGOs around Mumbai, who are deemed to be at-risk. Free-d provide training and support, allowing the women they work with to gain confidence, applicable skills and move towards financial independence. 
50% of the profit from each piece of the Perfectly Imperfect range covers the training or living costs of a worker beginning her new journey with Free-D. Giving these individuals a chance to improve their lives, while giving you stunning jewellery.
Each piece of jewellery is designed using computer programming and a 3D printer to create the design mould, before the jewellery is made using these. The skills the women learn will help them not just in the jewellery business, but in other roles, as computer knowledge becomes increasingly important.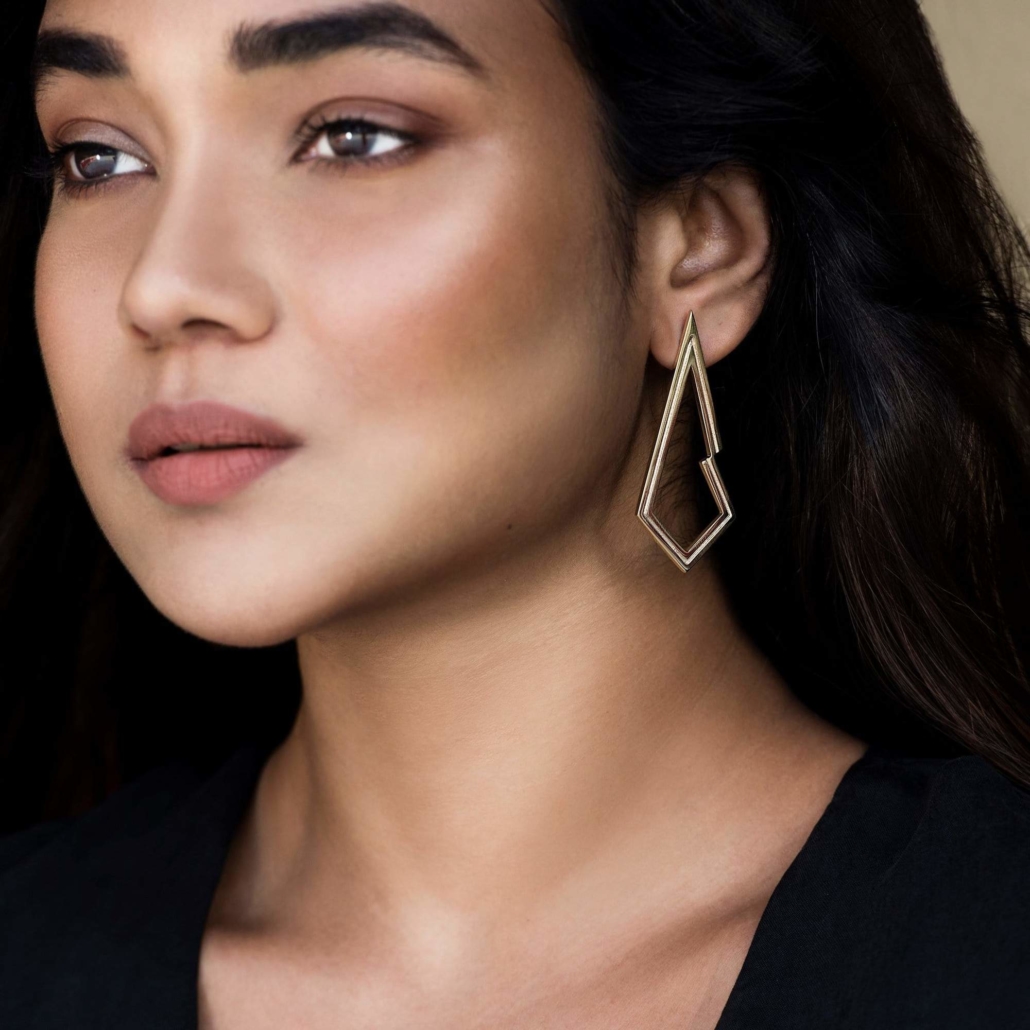 It is the story which elevates the elegance in each piece. But the jewellery is beautiful in its own right. My personal favourite are the Iris earrings. An elongated drop diamond shape, broken on one edge. The break symbolises the imperfections we all have. As does each piece in the Perfectly Imperfect range. Even more striking considering the individuals behind the pieces.
Free-d jewellery is currently available on pre-order. So place an order now if you want to be one of the first to own a piece from this gorgeous brand. Prices start at £49.00 for a bracelet. With an elegant and concise range of earrings, bracelets, rings and necklaces to choose from.

 Donation
Free-d also has a section where you can donate and chose what good you want done with your money. For example £15.00 will pay for an interview outfit. £18.00 will pay for a counselling session for the women who need it, giving them the mental care they need. Or pay £45.00 for a six month supply of 3D printer materials. 
Find out more by following them on Instagram. Or visit the Free-d website here. All images on this page are copyright Free-d
Instagram – @la.juniper       Twitter – @homeofjuniper Pinterest – @lajuniper1      Facebook – @lajuniper
#fillyourhomewithflowers #homeofjuniper
https://homeofjuniper.co.uk/wp-content/uploads/2016/09/junpier-logo-clear.png
0
0
homeofjuniper
https://homeofjuniper.co.uk/wp-content/uploads/2016/09/junpier-logo-clear.png
homeofjuniper
2019-07-19 06:11:46
2019-07-22 10:18:48
Free-d | Jewellery Matters