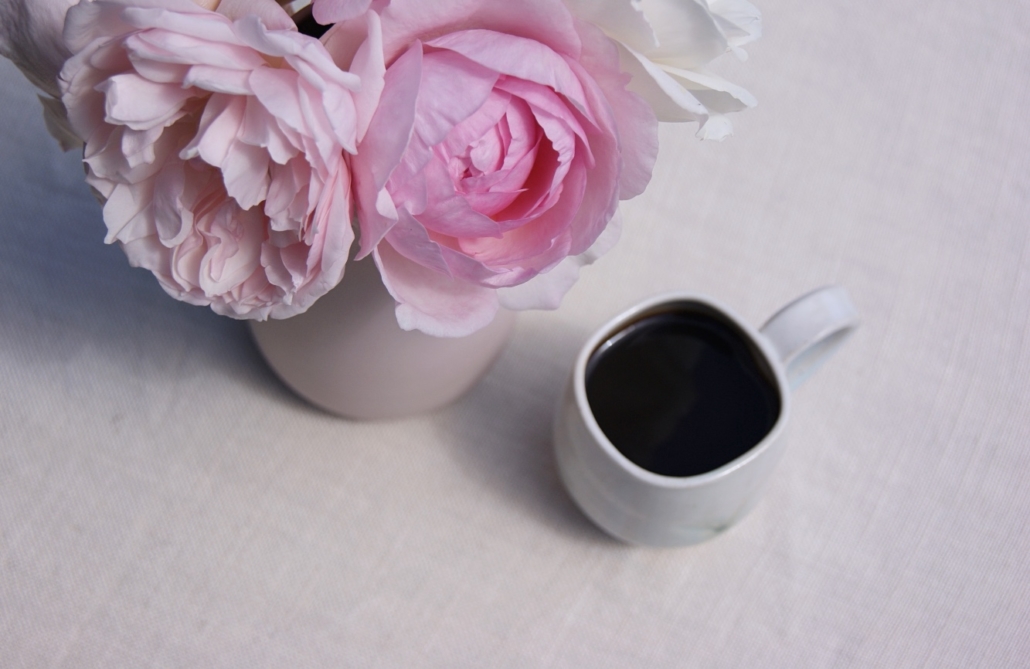 Right, grab a coffee and we will tell you a little more about British Flowers Week. And why it is something to be excited about…
June is when British gardens really bloom, which is why it is the perfect time for British Flowers Week. British Flowers Week is an annual celebration of British flowers and the UK cut flower industry. Now in its 6th year and running 18th – 24th, the week was started by the Flower Market at New Covent Garden Market in 2013. There are various ways to take part across the UK. 
We were lucky enough to catch up with Claire, one of the organisers at British Flowers Week, to ask her a few questions.
Can you tell us a little bit about why you started British Flower Week?
Here at the Flower Market at New Covent Garden Market, we've traded in British grown flowers and foliage for centuries. Up until the 1970s, the only flowers you saw came from flower farmers in Britain. Today, most of the flowers we see used in the floristry industry or for sale in your high street flower shop will have been grown by large scale commercial growers and routed through the Dutch auctions.
We wanted to promote and give visibility to these British flowers, their sellers, growers, and the independent florists championing locally-grown. Although beautiful British flowers are available all year round, we wanted to take one week to focus all our attentions on promoting them, generating interest and press coverage to boost the British flower industry.
Why is it important to support British Flower growers?
There's many reasons to support British flowers, from an environmental and also just a purely aesthetic perspective.
Just like with food, people are increasingly demanding more locally grown flowers to celebrate the seasons. When grown in season, flowers look and smell better, and can have more unusual movement to their stems and variation that isn't seen in large scale farming.
Not only do British flowers usually have a better scent than imported ones, they will be fresher and last longer. And of course, fewer flower miles mean less environmental damage. It's also important to support local industry and many farms that have been growing for generations at the centre of communities. British flower farms encourage wildlife and biodiversity, providing food and habitats for our butterflies and bees.
What is the most important thing you want people to take away from BFW?
We want people to think about where their flowers, foliage and plants are coming from. To buy British wherever possible and support independent florists using British flowers.
How can people get involved in BFW?
People can follow everything that's happening during British Flowers Week with the hashtag #BritishFlowersWeek across social media, and share how they're celebrating too!
There's events being held up and down the country to celebrate the week, including talks, pop-up shops and workshops – visit www.britishflowersweek.com for a full list. Our star event is a collaboration with the Garden Museum where six florists will be creating specially-commissioned installations using all British flowers, which will be on display from 18-24 June for people to visit.
On the website there's also a toolkit for florists, with free gift tags, posters and more tips on how to make the most of the week.
Of course, buying British is the simplest way to support the campaign and back local growers. Florists can buy from the specialist wholesalers at the Flower Market at New Covent Garden Market, or a grower from the Flowers from the Farm network, and members of the public from independent florists around the country.
 What is your favourite flower of the season?
It's really hard to pick just one. I'd have to say either sweet peas, for their gorgeous scent, or digitalis, for their unusual shapes and movement. Both remind me of playing in my parent's garden when I was younger – I think British flowers have such a power to evoke memories with their scents and colours.
British Flowers Week is in association with the Flower Market, Flowers From the Farm and British Florist Association. All three websites have some great information on where to find British flower growers… And how to get involved in British Flowers Week.
Do you have any plans to celebrate British Flowers Week? We are planning to showcase some talented British Florists and growers, show you some of our favourite British flowers, and we are offering at least 10% off all our Flowers & Florals page. Fill your home with flowers. Please tag us in any of your photos of British flowers and any posts that show you celebrating #britishflowersweek.
Instagram – @la.juniper       Twitter – @homeofjuniper     Pinterest – @lajuniper1      Facebook – @lajuniper
#fillyourhomewithflowers #homeofjuniper
https://homeofjuniper.co.uk/wp-content/uploads/2016/09/junpier-logo-clear.png
0
0
homeofjuniper
https://homeofjuniper.co.uk/wp-content/uploads/2016/09/junpier-logo-clear.png
homeofjuniper
2018-06-18 05:30:25
2018-06-15 14:47:44
British Flowers Week | What It Is All About