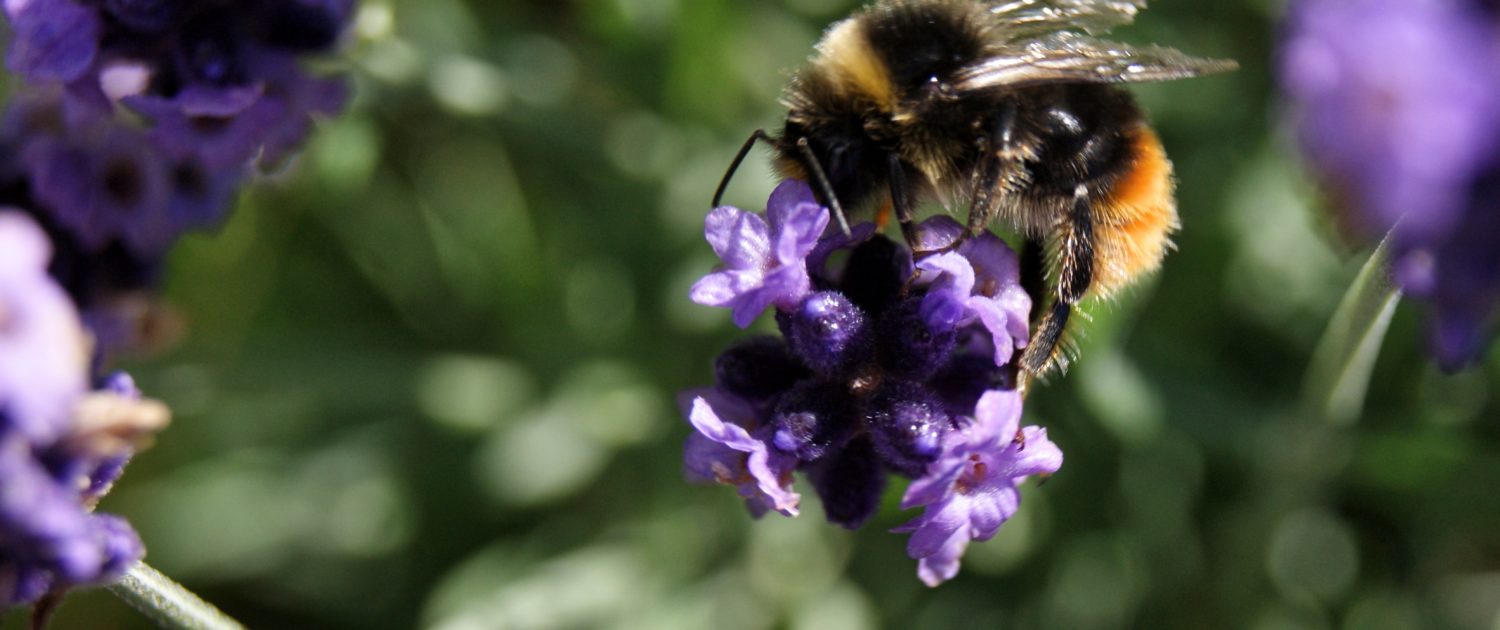 Have you noticed less bee buzzing around you garden? Their gentle hum seems to have nearly disappeared now. We spoke to our charity partners, The Bumblebee Conservation Trust about what happens to bees at this time of the year, and what we can do to help them during their quiet time.
There are fewer bees in our garden at this time of year, where have they all gone?
As autumn sets in and there are fewer plants in flower, bee activity naturally drops off. Bumblebee colonies naturally die off except for the newly mated queens which find somewhere in the ground to hibernate over winter. Adult solitary bees naturally die off too, the females will have done their job, creating nest cells and provisioning them with food so their young can develop over winter ready to emerge next year. While honeybee colonies stock up on honey to see out the colder months inside their hives.
What can people do to help bees at this time of year?
Leaving odd wild corners in the garden with logs and leaf-litter can provide potential hibernation sites for bumblebee queens. It's important for these sites to remain undisturbed until spring. This is also a really good time to start thinking about which plants you will grow to feed the bees next year. The Bumblebee Conservation Trust has some really useful gardening tips on their website.
What is your favourite fun fact about bees?
A bumblebee can travel up to 6km daily to visit flowers – this is the equivalent of a person walking around the globe 10 times to get to the shops!
What is coming up at BBCT that people can get involved in?
There are always opportunities to get involved with Bumblebee Conservation Trust, whether it's fundraising to help support conservation work, volunteering your time to help with one of our projects or coming along to one of our events. We will also be launching a new and improved version of our free Bee kind tool over the next few months to help people choose the best bee-friendly plants for their garden.
BBCT is a Registered UK charity: Registered Charity No. 1115634 / Scottish Charity No. SC042830. At least 10% from all bee items on our site goes to the charity.
Instagram – @la.juniper       Twitter – @homeofjuniper     Pinterest – @lajuniper1      Facebook – @lajuniper
#fillyourhomewithflowers #homeofjuniper
https://homeofjuniper.co.uk/wp-content/uploads/2016/09/junpier-logo-clear.png
0
0
homeofjuniper
https://homeofjuniper.co.uk/wp-content/uploads/2016/09/junpier-logo-clear.png
homeofjuniper
2018-10-20 07:33:15
2018-10-18 14:17:50
Bees in Autumn